Shipping, as it is well known, is a people's business. Beyond the seafarers who sail the high seas, much of the work that goes behind the smooth functioning of ships, ports and supply chains are actually shore-based.
That was what Darius Chua realised, after deciding to take a degree in Maritime Studies.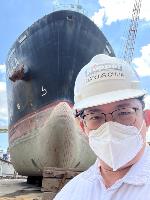 33-year old Darius Chua is an Assistant Technical Superintendent at integrated maritime services company Bernhard Schulte Shipmanagement.
Photo credit: Darius Chua

The 33-year-old had earlier graduated from Republic Polytechnic with a Diploma in Aerospace Avionics. But instead of heading up to the skies, he decided to dive into the maritime studies at the Nanyang Technological University instead, attracted by the small cohort – and he has not looked back since.
Mr Chua now works in Bernhard Schulte Shipmanagement (BSM) as Assistant Technical Superintendent, where he is responsible for checking the safety and compliance of the company's vessels.
Rocky waters
A vessel runs like a factory; a crew is required to operate large machines like generators and propellers. The job is not an easy one, especially since it requires him to pick up many technical skills.
"A lot of the technical skills I require on the job actually weren't taught in university. We only did a lot of theory studies, so I had to learn from observing whenever I was on the ship and adapt accordingly," he said.
Mr Chua has been with BSM for close to seven years, including a year at the firm's Germany office. To ensure vessels are safe for transportation and compliant with regulations, he manages and looks over reports on the health of ships, sometimes taking trips out to sea. He also makes sure that they comply with international regulations, as well as the Safety of Life at Sea (SOLAS) Convention and Maritime Labour Convention (MLC) rules.
The work is fulfilling. "There's a lot of things going on behind-the-scenes, not just the surface level," he said, noting that much of Singapore's success as the world's No.1 bunkering port is built on the efforts of those working tirelessly in the office to ensure all vessels are ready for transport and in good condition to ferry shipment containers.
Riding the wave
Whether it is working in the office or onboard ships, one thing is clear: the maritime industry is exciting, said Mr Chua.
He hopes that by showing young men and women that a career in maritime can be fulfilling, rewarding and exciting all at once, more young people would consider joining the industry.
The sea of opportunity continues to open up as the industry embraces digitalisation and decarbonisation – twin engines driving innovation and change. Demand for talent and skills are changing as well.
As it grows the sea transport sector, Singapore aims to create
some 1,000 "good" positions
for Singaporeans in both traditional roles and emerging ones, such as software engineers and supply chain managers, between 2020 and 2025.
"While the COVID-19 pandemic has resulted in uncertainties and significant impact to businesses and individuals, it has also accentuated the need for companies and workers to retool and reskill their capabilities to meet the transmuting global shipping industry," said Caroline Yang, President of the Singapore Shipping Association (SSA) and Chief Executive Officer of Hong Lam Marine.
She was speaking at the launch of the
SGUnited Jobs and Skills Initiative for the maritime industry
, where the Maritime and Port Authority of Singapore (MPA) partnered SSA and other stakeholders to provide 1,000 traineeships, company attachments and training opportunities for Singaporeans and permanent residents.
Doing so, she added, will help both the country and maritime community "better equip ourselves to seize new opportunities when the economy upswings".
In the same vein, Joshua Lee, Regional Human Resources Director of Hapag-Lloyd Asia, believes that the ability to keep learning and then add value in an age of modularity will be one of the most sought-after skills.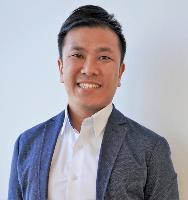 Joshua Lee, Regional Human Resources Director, Hapag-Lloyd Asia
"We need to build curiosity, openness to learn, a constant desire to value add in order to remain nimble and competitive, nudging employees to constantly unlearn and relearn becomes an imperative that we need to now pursue with more rigor. Going back to 'school' on a regular basis will become the norm."

Caroline Yang and Joshua Lee are speaking at the Maritime Manpower Forum on Day 5 of the Singapore Maritime Week this year, where leaders will share their perspectives on manpower strategies and talent development initiatives.

Register for your Talent@SMW half-day pass to join the conversation: https://avolio.swapcard.com/SMW/2022/