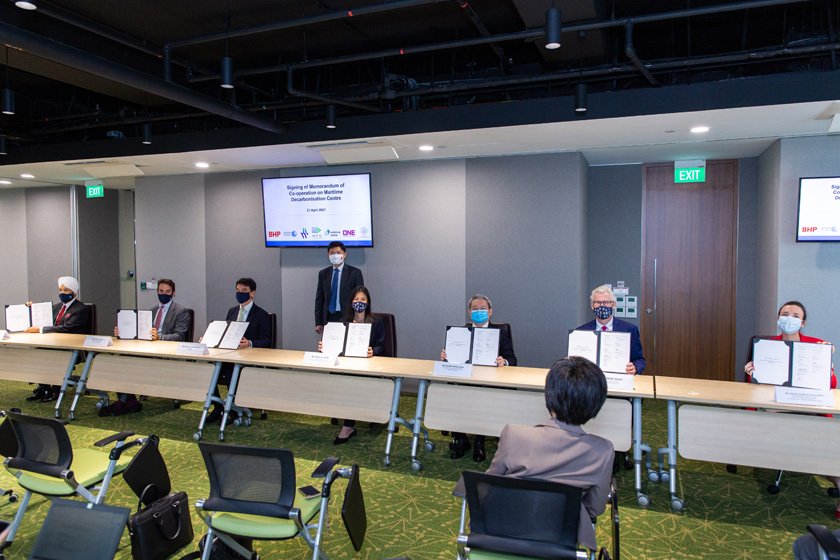 MPA Inks Collaborations with Partners to Advance Decarbonisation Efforts in Maritime Industry
21 April 2021
A S$120 million fund for a maritime decarbonisation centre in Singapore
The Maritime and Port Authority of Singapore (MPA) will join hands with industry partners under two separate agreements signed today to advance decarbonisation efforts in the maritime industry. Mr Chee Hong Tat, Senior Minister of State for Foreign Affairs and Transport, witnessed the signing of the two agreements.
Memorandum of Cooperation with Partners on Maritime Decarbonisation Centre in Singapore
2 MPA signs a memorandum of cooperation (MoC) with BW Group, Sembcorp Marine, Eastern Pacific Shipping, Ocean Network Express, Foundation Det Norske Veritas and BHP to establish a fund for a maritime decarbonisation centre to be set up in Singapore. This follows the release of a recommendation by the International Advisory Panel1 on Maritime Decarbonisation (IAP) to set up a maritime decarbonisation centre in Singapore.
3 Under the MoC, each private sector partner will contribute S$10 million to support the establishment of the centre, fund maritime-decarbonisation-related research and technology development projects and collaborate with institutes of higher learning and research institutes. MPA will add S$60 million R&D funding to these contributions, bringing the fund to a total of S$120 million.
Memorandum of Understanding with Temasek on Maritime Decarbonisation
4 To drive and catalyse maritime decarbonisation efforts, MPA also signed a memorandum of understanding (MoU) with Singapore-headquartered investment company, Temasek, to explore collaborations related to decarbonisation of port operations, development and use of low-carbon and/or alternative marine energy sources and decarbonisation of the other parts of the global and regional maritime supply chain, with Temasek and Temasek Portfolio Companies at the same event today.
5 Ms Quah Ley Hoon, Chief Executive of MPA, said, "Maritime decarbonisation is a global challenge requiring a collective responsibility from all stakeholders involved. It is crucial to have strong public-private sector partnerships. We thank like-minded partners that have responded strongly to our call for collaboration. The agreements signed today are two initial steps, which we hope will catalyse a larger, much needed momentum to make international shipping more sustainable."
[1] The IAP comprises 30 leaders from Singapore and overseas, representing industry, academia and government.
Partner Quotes
Memorandum of Cooperation with Partners on Maritime Decarbonisation Centre in Singapore
Mr Andreas Sohmen-Pao, Chairman, BW Group
"We are delighted to be able to contribute to this initiative. Climate change is a defining challenge of our time, and the only way to tackle this is with cross-border, cross-sector collaboration. While helping to find solutions for the industry, companies can also help themselves to prepare for the future by being part of this effort. We look forward to partnerships and insights through the centre."
Mr Wong Weng Sun, President & Chief Executive Officer, Sembcorp Marine "Collaboration and knowledge sharing is the new normal to advance decarbonisation in the maritime industry. Sembcorp Marine is very pleased to contribute to this collaborative alliance to push the frontiers. We believe that an interconnected approach to tap the best-in-class capabilities of players in our industry will lead to breakthrough outcomes in decarbonisation."
Mr Cyril Ducau, Chief Executive Officer, Eastern Pacific Shipping
"Sustainability begins with accountability and maritime leaders have a responsibility to implement emission-lowering solutions available today while simultaneously developing solutions for tomorrow. The formation of a maritime decarbonisation centre is a major milestone, combining forces of both public and private industry players. It proves that the sector is willing to band together and take ownership of environmental preservation for future generations. EPS is proud to be part of this partnership, and we look forward to collectively developing an effective path towards total decarbonisation."
Mr Jeremy Nixon, CEO, Ocean Network Express
"This is a further significant step forward by ONE, in alignment with its new green strategy direction. ONE is committed to accelerating maritime decarbonisation collaboration at both governmental and private sector industry level."
Mr Remi Eriksen, Chief Executive Officer, Foundation Det Norske Veritas and DNV
"The Foundation Det Norske Veritas is driven by a desire to help society tackle major global transformations. Transforming the world energy system is one of the biggest challenges currently confronting society, and shipping must play its part. But doing this cannot be achieved without industry wide collaboration. That is why we have taken the decision to become a founding member of the Singapore decarbonisation centre. We believe the deep expertise behind the Foundation complements Singapore's status as a world-leading maritime ecosystem for sustainable energy and climate change. Working together, I am confident the Centre will deliver a global impact on decarbonisation while further bolstering the Foundation's purpose of safeguarding life, property and the environment."
Ms Vandita Pant, Chief Commercial Officer, BHP
"The key to navigating the pathway to decarbonisation in the maritime industry is an ecosystem approach with all partners working collaboratively towards the same goal. BHP is proud to sign this Memorandum of Cooperation (MoC), and is committed along with other like-minded companies, to lead the maritime sector towards that goal through the maritime decarbonisation centre."
Memorandum of Understanding with Temasek on Maritime Decarbonisation
Ms Juliet Teo, Head of Transportation and Logistics at Temasek
"Decarbonisation is an important priority for the maritime industry. This MPA-Temasek agreement paves the way for joint efforts aimed at reducing carbon emissions across port operations, maritime supply chains and shipping, including new potential low- or no-carbon fuels for ships. By combining our expertise, experience and global networks, both within and beyond the maritime eco-system, we hope to bring capabilities to this task that will make a difference. This partnership underscores Temasek's commitment to a net zero carbon emissions portfolio by 2050 by applying our capital to catalyse new, potentially game-changing, solutions to today's carbon challenges."
Down But Not Out: Highlights from the 14th Singapore Maritime Lecture Webinar
The Singapore Maritime Lecture (SML) gathers experts and industry leaders to share insights on key maritime issues. For its 14th edition, the SML addressed the issues of dealing with the impact of COVID-19 and the opportunities in maritime digitalisation and decarbonisation to take the industry forward.
Read more
14th Singapore Maritime Lecture
The Singapore Maritime Lecture (SML) is a signature event at the annual Singapore Maritime Week, a week-long gathering of the international maritime community to advance industry issues and exchange ideas. SML has been brought online for 2020 and kicks off the "Maritime Perspectives" webinar series, which gathers experts and industry leaders to share their insights on digitalisation, decarbonisation and trade in a disrupted world.
Read more