Digital Transformation in the Singapore Maritime Industry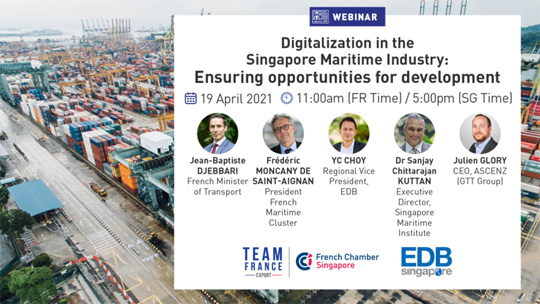 Monday
19 April 2021
5pm – 6pm
Webinar
The transition towards digitalization and automation is speeding up in the maritime industry. Digital technologies and solutions are being used to increase competitiveness and enhance operational efficiency.
The maritime Industry, the backbone of the world economy, is undergoing this transition. These challenging times have highlighted the need for greater resilience in the Maritime and the benefits that digitalisation offers. However, the maritime sector has yet to unlock digitalisation's full potential, let's understand how Singapore has started to unlock his potential.
Join our online event organised by the French Chamber of Commerce in Singapore in partnership with the Economic Development Board to understand how port and shipping services can significantly benefit from digitalization.

Organiser
The French Chamber of Commerce in Singapore
Mr Thomas Beaumond
+65 9891 6163
tbeaumond@fccsingapore.com
Target Audience
Companies seeking insights on Singapore Maritime Industry, Start-ups, CEOs, Naval architect, Marine engineer, Ship building Engineer, Representatives from shipowners, ship operators, ship managers, port and terminal operators, classification societies, technology developers, equipment providers, universities, research institutions and government agencies
Event Type
Open To Public
Website
Find out more
Updated as at Apr 2021. Subject to changes.